Voting is now closed and the winner story will be announced shortly. All winners are notified now (make sure you check your emails; it could be you!) – thanks so much for all your votes!

Hooraaay, it's finally here – our very first Airport News of the Year Award. The award is based on our weekly LateDeparture Airport News. We started them early 2011 and they have since become an integral part of the success of this blog. And now we feel it's time to crown the news of the news from the past year.
Rather than choosing the story ourselves (which would be cheating we think), we give you the chance to vote for it. Simply choose one of the three shortlisted stories. And it gets even better, you could win big with your vote! More about that later – let's first look at the three stories:
[tabs tab1="A lost cat" tab2="Rivalry Heathrow vs Gatwick" tab3="Landing at the wrong airport"]
[tab id=1]The story of Jack the cat who got lost at JFK Airport in New York (IATA: JFK) was mentioned in three different weekly news articles. It had everything from an emotional plea to find the cat, an apologetic airline when it was found and a very sad ending when the cat had to be put down due to its condition.
Read the full stories here:
[/tab]
[tab id=2]This one is a great industry story showcasing the intensified rivalry between London's two main airports. That week both airports had stories of their own – Heathrow (IATA: LHR) pushed its connection with the upcoming Olympics while Gatwick (IATA: LGW) focused on its immigration hall refurbishment. That paragraph ended with "let the games begin" which characterized the view pointedly as competition is great for all travellers.
Read the full story here[/tab]
[tab id=3]Landing at the wrong airport must be the ultimate joke on any traveller. Imagine you expect to be transported from A to B but now you land in C as the pilot thought it was B. Hilarious, yet surely very annoying for the passengers at the time.
Read the full story here[/tab]
[/tabs]
Right, now let's talk prizes: We secured five awesome prizes you could win. This is how it works: Everyone who votes for a story gets into the draw to win one of the following awesome prizes. But remember, you must vote to be in the draw!
The Prizes You Could Win:
[tabs tab1="1st Prize" tab2="2nd and 3rd Prize" tab3="4th and 5th Prize"]
[tab id=1] 1st Prize: Two JetBlue Airways roundtrip travel certificates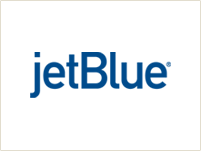 Each Travel Certificate may be redeemed for roundtrip air travel on JetBlue for one passenger from the airport closest to the winner's residence that is serviced by JetBlue to any JetBlue city. Winners are solely responsible for any and all costs of air and/or ground transportation to and from Winners' residences and the airport serviced by JetBlue closest to the Winners' residences. If any of the Winners is deemed a minor under the jurisdiction of his/her state of residence, he or she must be accompanied by a parent or legal guardian. Each Travel Certificate has an approximate retail value of $299. See additional Terms & Conditions at the end of this page.[/tab]
[tab id=2]2nd and 3rd prize: A S$200 shopping voucher each for Singapore's Changi Airport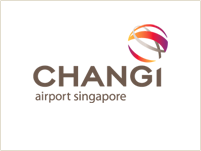 Each winner is given S$200 worth of vouchers to be used at Singapore's Changi Airport. The vouchers can be used for the majority of the 290 retail and 130 Food & Beverage outlets with the exception of money changers, supermarkets and convenience stores. The vouchers expire on 31st December 2012.
Singapore Changi Airport is the world's most awarded airport having garnered more than 380 accolades since it opened in 1981. To serve passengers and visitors from the world over, there are 290 retail stores and 130 F&B outlets offering a wide-range of local and international cuisines. For those looking for rest and comfort, there are non-airline lounges located across the three main terminals, some even offering pampering spa treatments and gym facilities. [/tab]
[tab id=3]4th Prize: Lunch for two at 5ive Steak (JFK T5)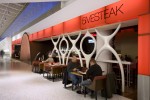 With an energetic bar scene and sidewalk seating, 5ive Steak® takes a relaxed approach to the classic American Steakhouse. 5ive Steak reinterprets the traditional steakhouse menu for a modern palate.

5th prize: Lunch for two at Crust (LGA TD)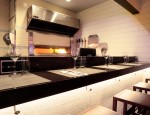 Crust features thin-crusted, Neapolitan-style pizzas with artisanal toppings. The individually sized pies are baked at nearly 700 degrees for the perfect crunch. Diners may choose from a list of composed pies or build their own. The toppings are always fresh, unique and delicious. The pizza menu is rounded out by a selection of antipasti and salads.
*Voucher do not include alcohol.
** Exclusive reservations will be facilitated for winning contestant
About OTG Management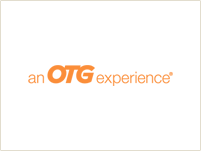 OTG Management (www.otgmanagement.com) is an award-winning airport food & beverage operator with more than 135 restaurants and eateries in nine airports, including Minneapolis-St. Paul, John F. Kennedy, LaGuardia, Boston Logan, Tucson, Washington National, Orlando, Chicago O'Hare and Philadelphia. Since its entry into airports in 1996, OTG has been recognized throughout the industry for its exceptional customer focus and ground-breaking innovation; growing to become the second largest privately-held airport food operator in the US in just over a decade. [/tab]
[/tabs]
Voting is now closed and the winner story will be announced shortly.
Voting is open now and closes on 30th January 2012 at 12 noon Eastern Daylight Time (Melbourne, Australia; UTC+11). Good luck!

[toggle title="Terms & Conditions:"]
Voting starts on Monday 9th January 2012 and closes at 12 noon (Eastern Daylight Time) on 30th January 2012.
Voting is limited to one vote per person and multiple entries maybe excluded.
Prizes are drawn on 30th January 2012 after the voting has closed. They are drawn randomly starting with the first prize, then second, third, fourth and fifth. Prize preferences are taken into account but cannot be guaranteed.
Winners will be notified by email and prizes must be claimed by return answer email within 1 week of notification. If unclaimed within this period, an alternative winner will be drawn and notified.
Special prize conditions are listed on the prizes or below
Prizes cannot be exchanged into cash
This promotion runs excluding the jurisdiction of a court
JetBlue Prize Conditions:
Each Travel Certificate is valid for one (1) year, and all travel must be booked and flown within the valid dates shown on the Travel Certificate.
Redeemed travel on a Travel Certificate is subject to availability and seats may not be available on all flights.  Certain blackout dates may apply and travel may be capacity controlled.  Schedules are subject to change without notice.
The Travel Certificate is not transferable, and at no time may it be purchased, sold, bartered, or otherwise exchanged for value without prior written consent from JetBlue.  Each Travel Certificate cannot be sold or traded on auction websites.
A passenger using Travel Certificate is subject and entitled to all provisions of JetBlue's Contract of Carriage, except denied boarding and Bill of Rights compensation.  JetBlue's Contract of Carriage is posted on the JetBlue website at http://www.jetblue.com/p/jetblue_coc.pdf.
Redeemed travel on a Travel Certificate is not eligible for TrueBlue points.  TrueBlue is JetBlue's customer loyalty Promotion.
A passenger using the Travel Certificate is solely responsible for any applicable fees taxes, surcharges, and/or service charges, including but not limited to Passenger Facility Charges of up to $9 each way, September 11th Security Fees of up to $5 each way and a Federal Segment Tax of $3.80 per domestic segment. A segment is a takeoff and landing. Alaskan/Hawaiian offers do not include U.S. government excise tax of $8.20 per departure.  Taxes and fees must be paid at the time of reservation and are subject to change as required by law.  Proper documentation required for boarding.
Each Travel Certificate must be redeemed by calling 1(800) JETBLUE and following the phone prompts.  Redemption of the Travel Certificate at a JetBlue airport ticket counter or online is not allowed.  Loss of authorization number and PIN cannot be replaced.
Each Travel Certificate may be redeemed only for travel on JetBlue-operated flights.  Travel Certificates are not available for use on any partner airlines or in connection with JetBlue Getaways Vacation Packages or Cruises.
Use of a Travel Certificate is subject to additional terms and conditions, and other restrictions may apply.
[/toggle]