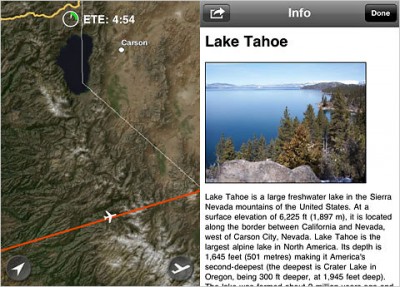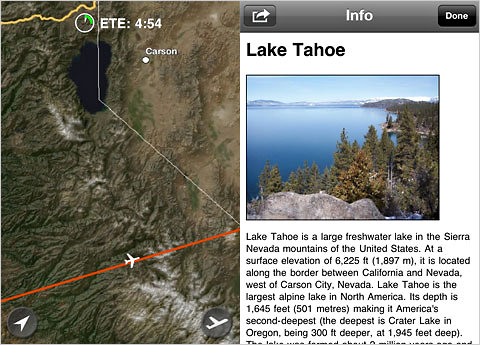 Ever starred out of your window on a flight and asked yourself what those interesting looking landmarks are? If so then you surely discovered that with your mobile phone in flight mode, a quick Google query is out of the question and the airline's flight information system won't really reveal much either, there's not much you can do. Or is there?
You're certainly in luck as the aptly named app "WindowSeat" can help you out. It shows the current location of your flight and offers brief write-ups about the scenery, sights and cities scrolling past the wing. The advantage of the application is that it doesn't require an in-flight internet connection: it's designed to work even when your phone is in airplane mode.
To do this, WindowSeat downloads your aircraft's official flight plan just before you depart. That plan contains the route your pilots expect to follow from origin to destination. Once you're airborne, just tell WindowSeat when you took off, and it will guesstimate your position on its map. Tap on a nearby dot and you'll get short, informative blurbs on geographic features, major conurbations and national parks and monuments. It's easy to adjust the elapsed time, or to fast-forward for a preview of what's coming next.
The app has some limitations as for example the plane might take a more direct route to the one it filed or it might have to divert due to traffic or weather updates, all of which the app won't know. But even with these limitations it's a must-have for every (geeky) traveller. And with a price tag of only US$2.99 it even won't break your travel budget. There's also a free Lite version, which covers departures from New York, San Francisco, Los Angeles, Atlanta and Austin only.
[Screenshot and excerpt from Mark Vanhoenacker – all rights reserved]