We love innovation and particularly – surprise, surprise – airport innovation. This one here was sent to us from a very attentive reader who discovered a story about a new way of overlaying digital flight information onto a binocular display at an airport observation deck. The story gets even better as the case study is based on an art installation at Zurich Airport (IATA: ZRH), one of our "like" airports in Europe.
Here's what PSFK wrote about this:
The Observation Dock B is a popular sightseeing spot at Zurich airport. The 250-meter long open-air observation deck was recently equipped with a pair of airport scopes that allow visitors to look through and reveal real-time infographics.

The digital binocular retrieves data from airplanes and airport buildings and displays information as a graphic overlay. The augmented reality device is able to detect the exact position of airplanes by analyzing real-time data from the control tower and reveal the plane's carrier, type, destination or point of origin.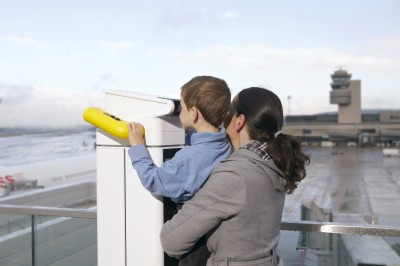 Art+Com
,who built the installation added in their release that Several media installations and exhibits enable visitors to receive insights and background information and to read and listen to stories about flying. And it continued by writing that since half of all visitors are children many of the installations were developed especially with the younger visitors in mind.
This one definitely receives our must-check-out seal! The visitor deck can be visited from 9 am to 6 pm every day.
Below are some sample visuals of what you would see looking through the binocular: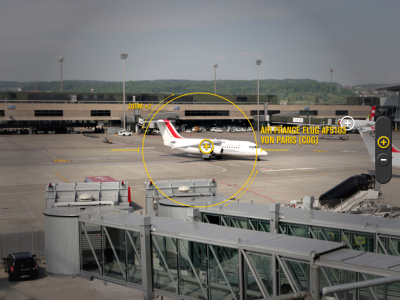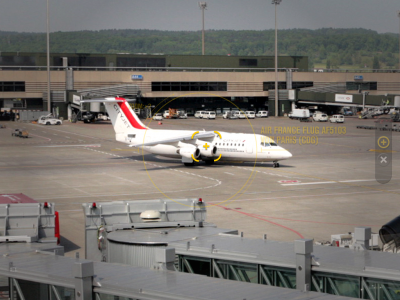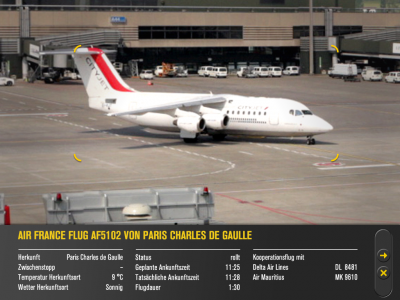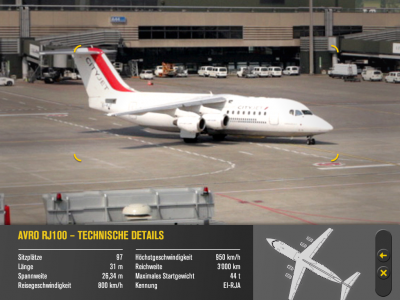 [All pictures copyright ART+COM AG]