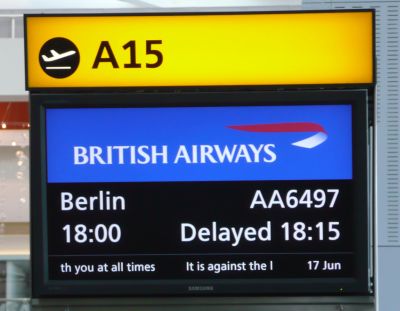 15 minutes delay for my flight to Berlin? GREAT! Because – LADIES – that's all you need! Head downstairs to the A departure level and check out my Top 3 which are just next to each other:
Go to the comfy ladies bathroom and realize by checking your make-up that you look just gorgeous! This wonderful body needs to be treated well with…
… chocolate! Stop at the chocolate waterfall of "Chocolate Box" next door and spend your money on your favourite bar.
… gems! Your desire for eye candies can be satisfied at "Accessorize". One can never have too much jewellery!
After all that, head happily to your gate with the nice thought of enjoying your chocolate while looking at London from the sky).
Christiane
Facts
Airport name: London Heathrow (Terminal 5) Short code: LHR
Website: http://www.heathrowairport.com
Design factor: 4/5
Shopping factor: 3/5
Toilets factor: 4/5
Overall factor: 4/5
P.S. I am curious what the guys have to say about Terminal 5! I saw them handing out free shots of Whisky at the Worldofdutyfree, that should make it on to the list. As well as the comfy sofas in the waiting area. But  don't forget to check out Gucci and Tiffany's and buy some small souvenir for your lefthome girlfriend! 😉