Apart from one news piece from New York and one from Egypt, this week's airport news list reads more like headlines from a cheap gossip magazine. Mind you, all of them are supposedly true and surely have their place in our news round-up. So, sit back and enjoy reading about the following:
According to USA Today, a bird strike forced a Florida-bound JetBlue flight to divert to New York's JFK on Thursday morning local time. The article further read that Fort Myers-bound JetBlue Flight 1205 had just taken off from the Westchester County Airport in New York City's northern suburbs (HPN) around 8 a.m. ET when the Embraer E190 aircraft encountered the birds. "Out of an abundance of caution, the aircraft diverted to John F. Kennedy Airport (JFK) for inspection and landed safely at 8:25 a.m.," said a JetBlue spokeswoman in the same article.
A lighter story came from the United Kingdom earlier in the week when CNN reported that staff at Bristol Airport in the west of England (BRS) believe an elderly teddy bear left in the departure lounge more than a year ago, along with a photograph dated 1918, must have a loving family somewhere. Airport staff were initially hopeful that the bear would be reclaimed, but so far no one has come forward. We – of course – want to do our bit to help unite this bear with its owner, hence find  the photograph of the Teddy in question below (courtesy of Bristol Airport). Anyone with information that might help find the owners should contact: yourairport@bristolairport.com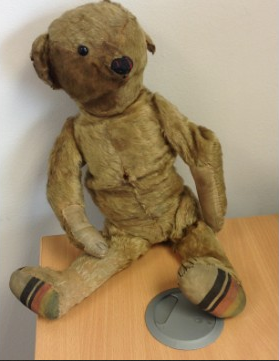 A fairly brief article reached us mid week from the Associated Press via ABC News regarding ongoing strikes at Cairo International Airport (CAI): according to the article striking workers at the airport's largest terminal are blocking airplanes on the tarmac and disrupting flights. Wednesday's strike has delayed the departure of seven flights and diverted passengers from three incoming international flights to the other terminal. The article concluded that Egypt has been hit by a seemingly endless wave of strikes in the two years since the ouster of autocrat Hosni Mubarak, contributing to the nation's worsening economy.
The Hindu, an Indian newspaper, surprised us with an interesting story from Chennai: 'Honey bees. That is the new problem the Chennai airport (MAA) has to deal with', the article kicked off. It then continued to recall an event from 29 May when passengers on board a Jet Airways flight from Chennai to New Delhi watched a swarm of bees buzzing around an aircraft wing. There's a video of it too:
The same article then quotes an official from the Airports Authority of India saying "Just a few days ago, I spotted a hive on the airside of the new international terminal. I'm not sure if it has been removed," he said. We sense this story will continue!
Then there were the students that got ejected from their flight to Atlanta. According to Associated Press, published via Yahoo! News, a group of about 100 high school students traveling from New York's LaGuardia Airport (LGA) to Atlanta were thrown off an AirTran flight, along with their chaperones, after the pilot and crew lost patience with some kids who wouldn't sit down and put away their cellphones. The flight was delayed for about 45 minutes while the students filed out of the Boeing 737, which seats about 137 people, leaving the plane mostly empty.
And to finish the week of we have news about Chewbacca. Who you say? It's of course on of the famous star wars characters. What could he have possibly been involved in at an airport you say? Well, not Chewbacca, but his actor, Peter Mayhew who played Han Solo's furry companion in the sci-fi series has. According to the NY Daily News the actor had his light saber-shaped cane confiscated by TSA security agents while attempting to catch a flight from Denver (DEN) to Dallas. Luckily the situation was resolved after Mayhew pleaded to – wait for it – his Twitter followers to retweet his upset message: "American Airlines won't let me through the airport with me cane! Can I get a retweet?"
That's all for this week – safe travels!
[Photo from Wikipedia – some rights reserved]