This week it's a mixed bag of airport delay stories as well as stories about economics and the future of airports. Here's our overview:
It was on Wednesday when we first heard of this story from India, reported in the Economic Times: With no end to rains in Chennai and water logging on the runway, the Airports Authority of India has suspended operations in the city's airport until noon on Sunday.
Chennai airport (MAA) is closed since Tuesday night. The authority had initially suspended operations until Thursday morning, but after a review it decided to extend it to Sunday, said a senior AAI official, who did not want to be named. On Wednesday, the AAI evacuated about 1,500 passengers, who were stuck at the airport. "People could not leave because the road outside the airport is submerged in knee-deep water. We have arranged for six buses to evacuate passengers," said the official.
Yesterday then India Today reported that domestic passenger flight services from Chennai airport is likely to begin from 6AM Sunday as the water level has receded considerably. Decision on resumption of night services at the airport will be taken on Sunday, officials of Airports Authority of India said. While flood water has receded from the main runway, a large part of the airport is still submerged.
Moving on to a different story that we found in The Economist this week, titled The economics of aviation capacity – do hub airports boost growth? The story was timed to coninside with the expected decision from the UK's Conservative government in regards whether or not to build a 3rd runway at London Heathrow Airport (LHR). As with pretty much all stories from The Economist this one is well explained and comes with a strong opinion towards one side. Basically the news magazine suggests that the additional economic benefits of a city having direct links to lots of destinations has been overstated, compared with just adding more capacity. It certainly is an interesting read and if the author is right, the British government will go ahead with the LHR expansion.
Over to Ireland where this week wasn't the best for travellers as the Standard reported that  UK and international flights have been cancelled from Dublin Airport (DUB) because of grim weather conditions. Storm Desmond has swept northern areas of the UK and Ireland, with the Met Office issuing flood warnings across the country. In a statement on its website, the airport said: "A number of flights have been cancelled as a result of strong winds caused by Storm Desmond. Among the grounded flights are scores of RyanAir services.
And to finish off the week – we found an exciting 'future of airports' story. This time it came from Business Insider via Yahoo! Travel: Airbus has just been granted a patent for a wild new way to try to speed up boarding on planes: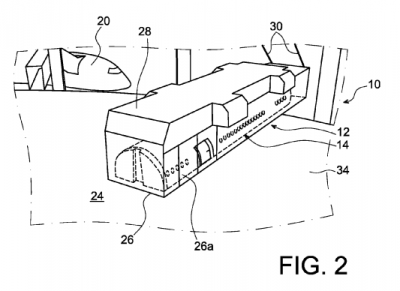 [Drawing from Airbus via United States Patent and Trademark Office]
Here's how it works. On normal planes, passengers line up to board and shuffle in one at a time. It's inefficient and pretty time-consuming. The plane manufacturer Airbus thinks it has a new way of doing things — and it requires a revolution in plane design. Airbus suggests detaching the passenger cabin altogether, instead loading passengers in a specially designed bay in the airport. Once fully loaded, the plane can taxi into the bay, ready to receive its passengers. The passengers can then be lowered into place — like an articulated truck, or a shipping container — and the plane is good to go. As soon as the compartment is removed, a plane would be ready to make another flight, with no need to wait for cleaning or luggage unloading. It would also make it easy for any plane to carry freight cargo when required.
What do you think, will this become reality one day?
That's all for this week – safe travels!
[Title Photo "Chennai airport front view" by User:Tshrinivasan – Own work. Licensed under CC BY-SA 3.0 via Commons.]