Every now and then we find news articles that fit our theme but are not directly attributed with any kind of actual delays. This week was special as we have 4 news articles just about those kind of topics: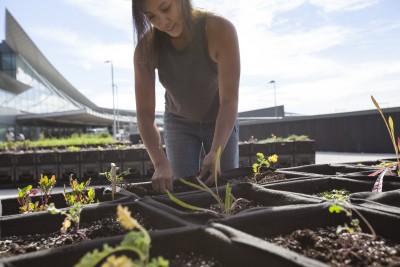 This week CBS News revealed that JetBlue Airways is trying to bring a little bit of country to the city – opening its own "farm" at New York's John F. Kennedy International Airport (JFK). The 24,000 square-foot space – less than half the size of a football field – outside JFK's Terminal 5 is meant to educate travelers more than actually feed them. Although eventually JetBlue would like to serve items grown there in terminal restaurants and even make some blue potato Terra Chips that are served on flights. According to the article the airline expects to grow 1,000 potato plants, yielding more than 1,000 pounds of spuds every four to six months, along with an additional 1,100 plants such as mint, arugula, beets, garlic, onions and spinach. The project is in partnership with GrowNYC, a non-profit environmental group that focuses on improving New York City block by block. Students will be brought in from local schools to learn about gardening. Some of the herbs and produce will be used by restaurants in JetBlue's terminal, others will be donated to local food banks.
No, Project Runway doesn't refer to the ongoing discussion about Heathrow's expansion. At least not this week. This week it refers to something entirely different as reported in The Atlantic: He's done gardens. He's done supermarkets. Now Karl Lagerfeld is taking on airports. The head designer and creative director for Chanel is known for putting on fashion shows that blend spectacle and artistry and camp, shows that put the "conspicuous" in "conspicuous consumption." His latest show, for Paris Fashion Week, carries on the tradition: It was set in an "airport terminal" re-constructed in Paris's Grand Palais. Lagerfeld christened it the Chanel Airlines Terminal. It includes Gate "No. 5."
The former Nazi airport Berlin Tempelhof was closed to aviation in 2008 (we reported it). Now, according to the Wall Street Journal, officials have been pondering just what to do with the 3.2-million-square foot mix of office space, airport functions and hangars ever since it closed. The sprawling terminal building at Tempelhof Airport is rich with architectural grandeur and historical significance, having been a massive Nazi building project in the 1930s and the center of the Berlin Airlift in the Cold War. Today the terminal building houses a few city agencies, a small technology hub and is occasionally used to host events. Much of the space, though, is empty office space that would need substantial investment to bring up to usable standards. This fall, city officials want to put an end to the uncertainty and craft a firm road map for the centrally located building, which is about three miles from the city center. The idea is to have a master plan by early next year—and officials are pondering an array of cultural and money-generating uses.
And to finish the week, we found the article titled 'the overlooked curiosity that is the air traffic tower' – interesting, right? Wired Magazine wrote that airport towers are to planes as lighthouses are to ships, but they don't get nearly the fanfare. Most people barely notice them, but Carolyn Russo sees beauty in them. She's spent nine years photographing the hulking giants of aviation for her series Art of the Airport Tower. Find some example photographs portrayed in the article and purchase the book from Amazon:
That's all for this week – safe travels.
[Photos by Jet Blue – all rights reserved]