It's March and with that a new airport month starts. But first we look back at the last week of February and its airport related aviation headlines:
It's no secret, we love Singapore's Changi Airport (SIN). It's probably our favourite airport in the world. So it was no surprise, that a headline like the one from CNBC this week asking 'Is Singapore getting airport crazy?' caught our attention straight away. The article said that Singapore's latest budget includes a $3 billion plan to expand its Changi airport with a fifth terminal before the fourth is even completed, but whether or not the travelers come isn't clear. And the articule continues by stating that it's not a modest expansion. The new terminal five, targeted for completion in around 10 years, will be as big as terminals one, two and three combined, more than 1 million square meters.  "In theory, the more capacity that the airport has, the more likely it is that Singapore can be a hub for major carriers besides just Singapore Airlines,"Galaviz a partner at Global Market Advisors said in the article. But other airports are also going that route, noted Deloitte's Pickett, citing new hubs in Guangzhou and the Middle East as well as plans for as many as 100 new airports in China by 2027. "The major airports in Hong Kong, Dubai (both Dubai International and Al Maktoum International), Abu Dhabi, Istanbul and Qatar are undergoing significant expansions before 2030," with Al Maktoum potentially becoming the world's largest airport by 2027, Pickett noted. "Singapore has no choice but to ramp up capacity to fend the competition off," Galaviz said.
It almost seems to be the norm that DFW and JFK feature in our weekly updates as the unusually cold winter continues in large parts of the U.S. East coast. First it was CBS that reported that runways at John F. Kennedy Airport (JFK) were briefly shut down Sunday following a morning snow squall. Then, a day later, WFAA wrote that more than 900 flights have been canceled in or out of DFW International Airport due to winter weather in North Texas. And just yesterday the same news service reported that it was a rather busy night in Dallas-Fort Worth Airport's Terminal D on Friday. Many travelers were stuck there, due to canceled flights. They were stuck trying to make the best of a bad weather-related situation.
Then from Canada we received some remarkable news when The Star reported of a woman that gave birth while waiting for a flight: A woman waiting for a flight at Toronto's Pearson Airport (YYZ) ended up getting a trip to the maternity ward instead. Paramedics were called to the airport after the woman went into labour in an airport lounge while waiting for a flight to Edmonton. The Peel Paramedic Service said the mother and her newborn son were taken to hospital to be checked over, and that both were in good health. We at LateDeparture find it astonishing that the woman even attempted to fly in her assumed later stage of pregnancy. Luckily everyone is well and the little fellow can now claim an airport as their birth place.
Over in Europe, Geneva Airport (GVA) didn't have a good end to the previous week when, according to The Local,  it struggled to return to normal operations on Sunday, a day after equipment failures, two fires and snow forced the cancellation of 35 flights and the rerouting of 22 others. An airport spokesman said of the 615 take-offs and landings scheduled 5.7 percent were cancelled. He added that the airport had never had so many unrelated incidents in a single day.
Then, just today we heard from the United Kingdom where according to the Telegraph thousands of people were left stranded for much of Saturday after East Midlands Airport (EMA) was forced to suspend all its flights due to a power failure. No one was allowed to board a plane there after 8.30am when the main power to the airport was cut. Investigators were attempting to establish the cause of the problem. Flights were later resumed in the afternoon, with the airport issuing a message at 3pm thanking passengers for their "patience and understanding".
And – to finish the week off – a little bit of good news from Downunder as this week marked the return of the Avalon International Air Show to Melbourne's Avalon Airport (AVV). Whilst most of the display & conference were military related there were also a few interesting civil aviation items such as SAAB's remote airport control system (we wrote about it here). But even some of the military items were fascinating for civil aviation enthusiasts: There was Australia's KC-30A (shown below conducting an aerial display with three F/A-18F Super Hornets during the air show), a modified Airbus A330 that is now used to transport troops as well as refuel aircraft mid-air or the U.S. military drone, RQ-4 Global Hawk that became the first unmanned military aircraft to land at a civilian airport earlier in the week.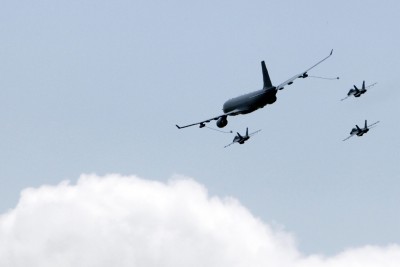 That's all for this week – safe travels!
[Title Photo Credit: redpolkadot via Compfight cc; Air Show photo from the Australian Department of Defense]