If you haven't been to mainland China, arriving at any Chinese airport is quite exciting as it can feel a bit like the forbidden, foreign land. At least it did for us when we visited. But if you've traveled through a large number of airports like we did, you may find something you expected to be fairly exotic, is actually pretty "normal". This airport terminal could certainly be almost anywhere in the world. One well known airport comes to mind quite strongly though.
Shanghai's Pudong International Airport (PVG) Terminal 2 opened in 2008 and serves as the main terminal for Air China and other Star Alliance airlines. Arriving there feels like you've just landed at Hong Kong International Airport (HKG) as that's the general feel of the terminal.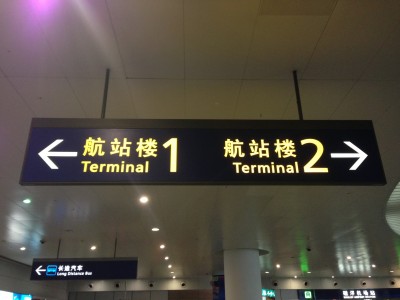 When you arrive, we suggest you take the Maglev train to the city. Be aware though of some tourist scams trying to lure you into expensive taxi rides. Immigration is pretty straight forward too, but you definitely need to check with your travel agent whether you need to organise a tourist visa prior to leaving your country (most Western countries do).
But let's look more into what you can actually do there if you have ample time. It turns out we did have plenty of time as on our first flight on to Tokyo, our plane was one hour late and at our second one a 1.5 hour stop-over turned into a 3 hour one.
Actually having read up about Chinese airports and air spaces, it turns out the probability of you being delayed at Shanghai is high, especially if your plane is routed from Beijing, which is located within a massively congested air space mainly due to the fact that China strictly restricts flight paths for military reasons.
So what's there to do? The good news is that Terminal 2 is a nice, clean terminal that feels open and large. The bad news is, it is no Hong Kong airport terminal despite it looking like it. There really isn't that much to do here.
So your best option is to grab a free Wifi pass from the information booth right after immigration. Remember though, you won't be able to access Facebook, Google and a number of other Western websites. So get creative and use your other services or relay on the Chinese versions of the popular American websites (most of them do have an English version too).
If – like we did – you have a stop-over with a connecting flight, well, we feel for you. The annoying bit at Shanghai (or any other Chinese airport) is that you have to actually go through immigration, enter China, collect your luggage and re-check in. Highly annoying and certainly tricky if you have a tight connection.
The bonus of this annoyance is though that you get access to the 'landside' of the terminal with many more shops and time-killing options. So do check-in, then spend some time on this side. For example there's a Panda Shop selling the fluffy animals (the soft toy versions of course). Or there are plenty of food & drink places in the main hall or towards the Maglev train.
Once ready for your flight, there are a few things you can do besides charging your laptop and browsing the web after immigration:
Have a drink and some food at the upstairs restaurants and bars (options include a Burger King, Asian eateries, a Pizza place as well as other bars and cafes)
Check out the relatively few shops (there are some treasures to be found though, depending on your taste and budget)
Try out the iRest Massage chairs (¥30 for 15 mins), near gate D75
If you're after something refreshing, maybe go to one of the ice cream places (e.g. the Mövenpick one)
Traveling with small children? There's a small play area near gate D81
If all this fails, you can always walk laps – the terminal is quite extensive
Enjoy Shanghai and safe travels!