America is the land of opportunity and freedom, right? In many ways that's definitely still true: You're free to drive anywhere, you're free to express your opinion (that guy in the subway did exactly that with the full force of his adult voice) or you can still make it big in business whatever background you have. And certainly for consumers, freedom also applies to the country's economy. There's hardly another place where you have so many choices – be it the type and brand of mineral water you can drink, the breakfast cereals you prefer or the airline you choose to cross this vast country with.
Today America has over one hundred airlines with many of them operating 'coast to coast' flights. They are often divided into two groups: the established, large, full service airlines such as American Airlines, Delta or United and the relative newcomers and often classified no-frills or budget airlines like Southwest, Virgin America or JetBlue.
Today we want to give you a view into crossing this 'land of freedom' with one of them: JetBlue. The airline has its headquarters in New York and is particularly strong on the Atlantic coast and Caribbean routes. But besides those it also offers a relatively good network of airports on the Pacific coast, making it a true coast-to-coast airline.
So, for our own test flights, we chose the route Los Angeles–Syracuse, then Syracuse–New York, New York–Las Vegas and Las Vegas–Los Angeles. First up, there are (of course) no direct flights from LAX to Syracuse, so this flight will have to go through either Boston or JFK and we chose JFK. Then, JetBlue doesn't fly the route Las Vegas to Los Angeles (unless you'd want to fly through New York or Boston, which of course doesn't make sense), so we flew this part with Southwest.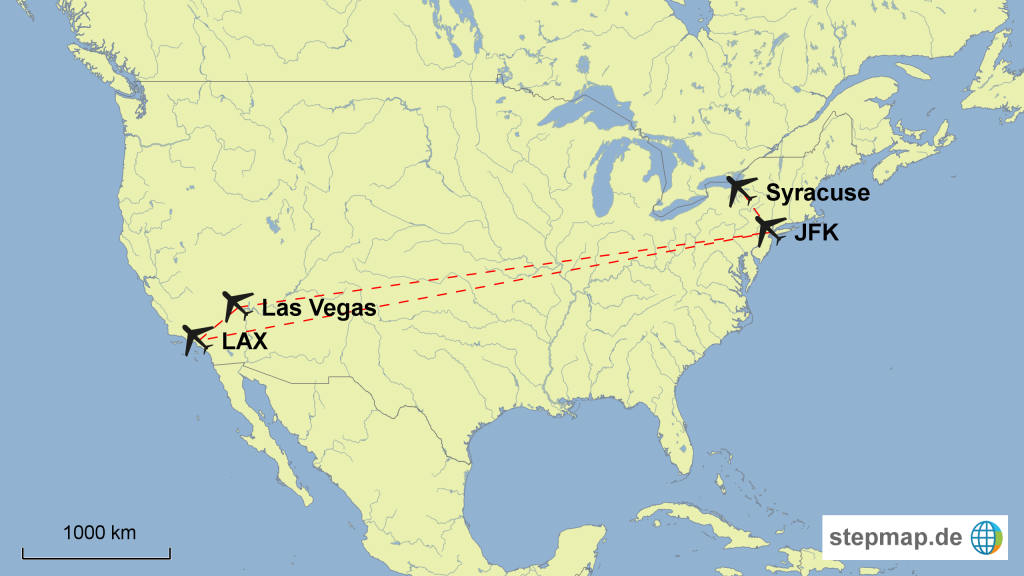 Even today many people still get uneasy about booking no-frills airlines for longer distances as they fear they wouldn't provide any entertainment, food or even seat choice. Whilst this may be true for some Asian or European airlines, it's generally not true in America. You see, competition is a wonderful thing as on their own these airlines aren't inclined of offering such luxuries as free soft drinks, entertainment systems etc. However, in order to differentiate themselves from a growing number of competitors, they do. And these days, they often do that better than their larger incumbents that themselves have come under cost pressure, hence having to reduce their service offering.
JetBlue offers free water, soft drinks and snacks throughout the flight. It also offers a TV in each seat with 42 live TV stations (free) and 3 movies ($5.99). But JetBlue also provides free seat selection. In addition when you book your flight with the option for an upgrade to an "even more space" (read roomier row) you will pay extra (costs depending on route/duration of the flight).
In our experience once you are on board, the captain and crew will keep you well informed on what's happening (or not happening in our case in Syracuse when we occurred a 15 minute, short-of-runway delay due to a control tower that wasn't used to a high-cadence departure through-put). The pilots, however, will try to make up for any delays as much as they can (e.g. our Syracuse-JFK flight landed with only a few minutes delay).
What about a JFK connecting flight? Well, you see the beauty is, that if you choose an airline with a large operation at your connecting airport, chances are the experience is very smooth as it is the airline's bread and butter business to connect people and flights – at least that's our experience. In the case of JetBlue it was ideal: their purpose built Terminal 5 at JFK is an absolute gem. We've already reviewed this terminal once and were able to re-confirm its effectiveness on this trip.
With time to spare we were able to look through many of the shops (our favourite was the Muji store) and drench our appetite from the self-serve area, which boosted a wide selection catering for every need and taste! If you're less mobile or simply can't be bothered to walk around much, you can enjoy the gate delivery service of most food outlets in the comfort of your seat.
One thing we saw at T5 was that there is quite a bit of construction taking place. It's away from passengers, so didn't bother us, but curious as we are, we asked JetBlue to comment and they told us that they will add an additional 145,000 square feet of space. T5i (the 'i' stands for international) will include dedicated gates to accommodate JetBlue international arrivals and capable of handling wide-body aircraft operated by partner airlines. A new Federal Inspection Site to handle United States customs and immigration checks will be constructed, eliminating the need for JetBlue international arrivals to be processed at JFK Terminal 4. Construction should be completed in early 2015.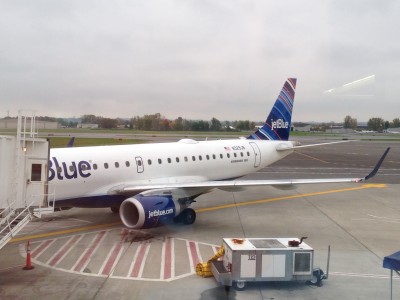 Our next flight then brought us to Syracuse (SYR). Apart from a very chatty and funny flight attendant, more blue potato chips and a plane called "My other ride is a A320" there wasn't much to report of. Oh, but at this stage we could reveal that JetBlue told us that all their aircraft have interesting names. For example they recently dedicated an aircraft "Blue Bravest" to the New York City Fire Department. Other names include: May the force be with Blue, Blue Velvet, Blue Belle, Ole Blue Eye, All Blue Can Jet, Red, White and Blue, and I Got Blue Babe. So make sure you ask the captain or flight attendant what your plane is called next time you fly JetBlue.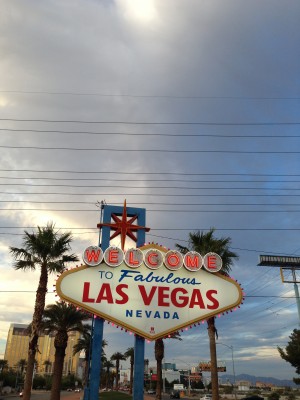 Las Vegas was great too. No, we don't mean the tables and slot machines; we're still reviewing the airline, remember? We meant the airport experience of course. The JetBlue flights there land at the new terminal 3 – a massive terminal with a slick, modern appearance and well designed facilities as it barely took us 3 minutes to get from the plane to the baggage carrousel. And that was then sadly also our last experience with JetBlue on this trip. Our final leg took us from Las Vegas to LAX on Southwest. Well, we incurred an hour delay on that super short flight which, to be fair, wasn't the airlines fault which the captain blaimed Vegas traffic congestion with a slightly frustrated voice. Maybe it was the delay, maybe our clouded 'Vegas heads' but we didn't quite feel at home on Southwest, certainly not as much as we did with JetBlue. We will be back, that's for sure!
Disclosure: JetBlue paid for one of our tickets.