Five topics crystallized from the seabed of airport related news this week, here they are:
Just today AFP announced via Yahoo! news that thousands of teachers severely disrupted access to Mexico City's international airport (MEX), forcing some travelers to abandon cars and roll suitcases on foot during a protest against education reform. According to the article the striking educators descended on the capital this week from across the country, staging sit-ins at the chamber of deputies and senate that forced lawmakers to move their debates in a convention center. And federal police said it had transported 2,500 people from a metro station to Terminal 1 and would continue the service until the blockade is lifted.
Then there were the passengers of a Virgin Atlantic flight from London to New York's JFK airport (JFK) this week. What about them, you ask? Well, according to ABC News the flight was forced to make an emergency landing forcing more than 250 passengers to spend the night "all over the floor" at Gander International Airport (YQX) in Newfoundland, Canada. After safely landing at the airport, passengers had to sleep on chairs and benches at the airport because Virgin says it was unable to book accommodations for passengers. 27 hours after they departed London they finally made it to JFK the next day.
Better news came from Singapore this week when Reuters announced that the Singapore government unveiled a master plan to double capacity at Southeast Asia's busiest airport, build a new waterfront city, move its massive port and relocate a military airbase to free up land for development. As part of a national address, Prime Minister Lee Hsien Loong unveiled plans for a fourth runway at Changi Airport (SIN), Southeast Asia's busiest. This will allow the government to move a military airbase in central Singapore to Changi after 2030 and free up 800 hectares (1,980 acres) of land for homes, factories and businesses.
Then we picked up an interesting report from Fox News that talks about the world's fanciest airport lounges. Delta's new Sky Club, Qatar Airways premium lounge at Heathrow as well as Singapore Airlines' KrisFlyer Gold Lounge at Changi Airport were among the top mentioned lounges.
And to finish the news week, we've got something from Japan. Ever got bored waiting around the luggage carrusel waiting for your bags to arrive? We bet! Japan seems to have the answer to our boredom: according to RocketNews 24 a number of Japanese airports display rotating art on their baggage carousels. Oita Airport (OIT) for example has some giant sushi plates going round. Pretty cute we find!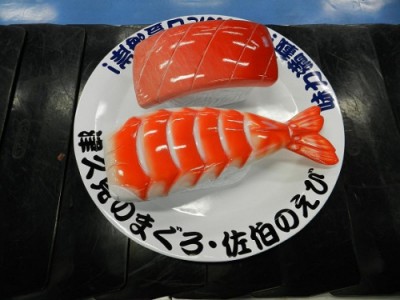 That's all for this week – safe travels!
[Feature Photo from Wikipedia – some rights reserved]