This week's airport news round up focuses on airport news from the UK and Mexico with the following topics
This week the Financial Times wrote that the UK aviation industry united on Wednesday to demand action to solve southeast England's impending airport capacity crunch, with Heathrow (LHR) warning that Britain would lose out to other global hubs if policy makers did not act. In the article Colin Matthews, Heathrow's chief executive, said the airport could support flights to 40 additional long-haul destinations by 2030 if it was allowed to expand.
Over to Mexico where the first of two stories only recently emerged when the Huffington Post wrote that an airport serving Mexico's fourth-largest city suspended operations for seven hours because of volcanic ash from the Popocatepetl volcano. The international airport in Puebla (PBC) was temporarily closed as a precautionary measure, said Puebla airport spokesman Herbert Lopez Palma.
With Edward Snowden now finally coming forward requesting asylum in Russia, another person, a Mexican woman, seems to have gotten voluntarily stranded at an airport in Mexico. The Time reported that after arriving on a flight from the United States on June 30, [the woman] has been living at the airport in the Mexican resort city of Cancun (CUN) ever since, officials said. Marcela Silvia Montano Mancera, a Mexican citizen, was spotted sleeping in the terminal, washing up in the airport's restrooms and eating at the airport restaurants and withdrawing money from an ATM to eat at an airport restaurant. Officials are trying to locate the woman's family but have not had any luck, police said.
Back to the UK with an article from the Washington Post saying that a fire aboard an empty 787 Dreamliner at Heathrow Airport (LHR) spooked Boeing investors Friday, as they feared the reemergence of battery problems that grounded the plane for months earlier this year. The cause of the fire on the Ethiopian Airlines plane — which broke out more than eight hours after the plane landed in London — remained under investigation. The location of the fire led some experts to surmise that the cause was not the plane's lithium-ion batteries.
But not all seems going bad for Boeing these days as some deliveries of new aircraft work like clockwork. Coincidentally your LateDeparture author had a rare opportunity this week when he boarded the very first commercial flight from Frankfurt to Hong Kong in a brand spanking new Lufthansa Boeing 747-800. Here's the proof (albeit a little dark):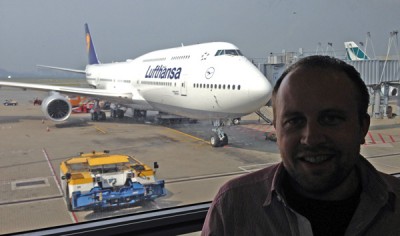 That's all for this week – safe travels!
[Featured image of Boeing 787 Dreamliner from Wikipedia – some rights reserved]