This week has been one with a wide diversity of airport stories. We received news about a gold heist, a landing gone "belly up", a flight to the wrong airport, an introduction of a new airport shopping experience, a baggage handler strike and a supercar used for taxing planes.
Let's start with the gold heist. On Thursday NBC South Florida reported that a gold shipment worth US$625,000 vanished from Miami International Airport (MIA). The article said that the theft happened around 5 a.m. Tuesday shortly after American Airlines Flight 902 from Guayaquil, Ecuador (GYE), which was carrying the gold, landed at the airport.
A couple thousand kilometers further north, in New Jersey, NBC News reported earlier today of a US Airways flight making a belly landing at Newark International Airport (EWR). Apparently no injuries were reported after Express Flight 4560 landed just after 1 a.m. carrying 31 passengers and three crew from Philadelphia, US Airways spokesman Davien Anderson said in a statement. The De Havilland DASH-8 100 turboprop plane was operated by Piedmont Airlines, he said.
Quite a different "landing issue" was reported from Europe this week when The Telegraph reported that a Ryanair flight went to the wrong airport. But according to the article it wasn't a mistaken landing (as we've seen before), but rather the pilot's choice. The article said that the flight to Kefalonia (EFL) was diverted to an airport 200 miles away because the pilot said it was "too dark to land". The plane landed in Thessaloniki (SKG) on the Greek mainland rather than the Ionian island. Then, as to the article, the plane took off again two hours later, taking fliers to the correct destination. Upon which one passenger said: "Has the sun come up in Kefalonia then?"
In Egypt baggage handlers went on strike this week. ABC News reported today that Egyptian officials say baggage handlers at Cairo International Airport (CAI) have gone on strike to protest a colleague's death, leaving passengers on 20 international flights from Europe and Arab countries waiting several hours for luggage. According to the article the strike started on Saturday after a baggage handler who works for EgyptAir died when a conveyer belt used to unload luggage fell on his head. Airport officials say it took more than an hour for the ambulance to arrive at the scene from the airport's onsite hospital.
On the other side of the planet, in Melbourne, Australia, a grocery store chain introduced a clever, new airport service: On Wednesday Woolworths launched Australia's first click, fly & collect shopping service at Melbourne Airport (MEL). Kate Langford, Head of Online Business Development for the company said in a press release that "This innovation in supermarket shopping allows customers to collect their pre-ordered groceries for free after they step off the plane so they can spend less time in the supermarket and more time doing the things they want or need to do." Since Melbourne is LateDeparture's home base, we put this service to the test and will report our findings in the coming week.
And to finish our news round up for this week, a story from Italy. An online car magazine reported that Bologna Airport (BLQ) is now in proud posession of a supercar for its airport "Follow Me" services. According to the article, Lamborghini sent one of their Aventador cars to the Italian airport for its 50th anniversary where it will help taxi planes. Check out this photo published in the article to actually believe it: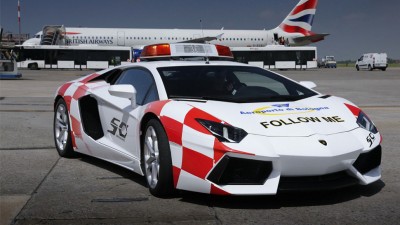 That's all for this week – safe travels!
 [Feature photo from Wikipedia – some rights reserved]