The Netherland's largest airport, Amsterdam Schiphol Airport (IATA: AMS) surely likes to innovate through new passenger offerings – remember that awesome banner vending machine for example? Today it informed us of a newly launched multimedia bus tour that provides a behind-the-scenes look of the airport.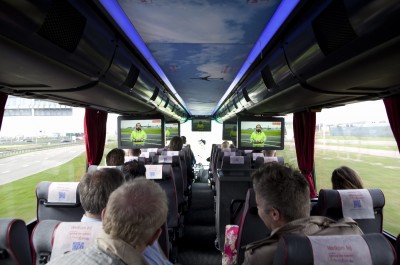 The spectacular tour gives access to places at the airport that visitors would not normally see, such as the fire service, the snow clearance fleet, the cargo aprons with their large hangars, and the terminal for private jets. Even the old air traffic control tower has been included. The tour has been specially designed for young and old, day-trippers, tourists and passengers arriving or transferring at Schiphol.
According to the press release, passengers are made to feel that they are entering an aircraft when boarding the bus, thanks to sounds from the air traffic control tower, the welcome screens and their boarding passes. A video presentation then takes visitors through Schiphol operations, explaining everything that needs to be done to allow air traffic to run at Schiphol. This includes information on the terminal, the runways, flight paths, runway maintenance, baggage and the bird control units.
The tour starts and ends at Schiphol Plaza, and takes just over an hour. The tour goes past the take-off and landing area towards Schiphol East, along the old air traffic control tower, passes the aircraft hangars, continues on to the snow clearance fleet and fire service post in Sloten, and from there returns to Schiphol Plaza. For the tour schedule and ticket sales, please visit www.schipholbehindthescenes.nl. Tickets can also be purchased at the airport, in the Arrivals hall or beyond passport control at Holland Boulevard between piers E and F. Adults pay €15, children aged 4-12 €7.50. A 10% discount applies to tickets purchased online.