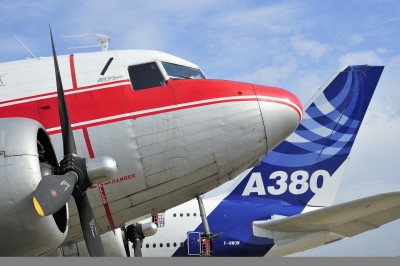 This week Paris put on a good show by hosting the 49th International Air Show at Le Bourget Airport (IATA: LBG), 11km northeast of Paris. While the usual purchase orders of new aircraft made the rounds throughout the week, EADS, the parent company of Airbus announced its details of a hypersonic transport concept cutting air travel times down significantly as reported by FlightGlobal and others. It is said that the plane could cut the Tokyo-Los Angeles journey to as little as 2h 20min.
A show of a different type continued in Australia as the Chilean ash cloud once again halted air traffic across the east coast at the beginning of the week. And whilst this second interruption seemed not to last very long this time, Qantas later in the week once again cancelled flights between Australia and New Zealand while other operators claimed they could fly around or below the cloud, reported the Sydney Morning Herald.
A different kind of interruption occurred in Peru this week as Reuters reported: Thousands of protesters opposed to mining and energy projects in southern Peru took over a commercial airport on Saturday. Apparently 3,000 protesters had occupied the runway at the Juliaca airport (IATA: JUL) in the region of Puno.
Better news reached us from Phoenix Sky Harbor Airport (IATA: PHX) where according to Passenger Terminal Today, the PHX Sky Train, which will connect all terminals  will be completed by early 2015, nearly six years earlier than planned. Six years earlier, wow! We wonder who did that first estimate…
And finally for the odd news of the week, this time from Edinburgh Airport in Scotland (IATA: EDI): According to the BBC a British Airways flight was delayed for three hours after a mobile phone was allegedly thrown from the plane on to a runway. The incident apparently followed the discovery of an unclaimed mobile phone on board. Well, surely there are better ways to dispose an unwanted, old mobile we think!
That's all folkes, read you again next week. Safe travels!
[Photo from the Paris Air Show – all rights reserved]