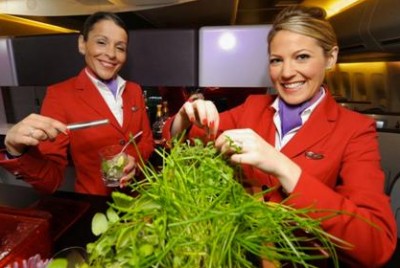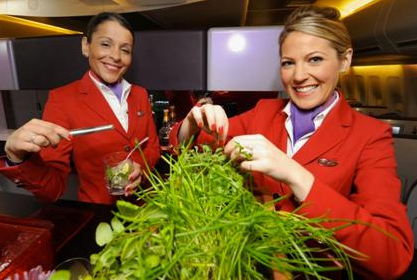 It was April fools day on Friday and Virgin Atlantic released a funny press release for the occasion: they announced that fresh herbs and vegetables will be grown on board Virgin Atlantic flights for Upper Class passengers from April 1st 2011. They really built up a proper story by specifying that in Upper Class, fresh herbs will be used to complement drinks and cocktails from the bar area including thyme for Bloody Mary's and fresh mint for Mojitos, Pimms and tea. The vegetable offering will complement the in-flight meal with availability of vegetable depending on your destination. Carrots, baby new potatoes and spinach will be available on flights returning to the UK. Miniature pumpkins and sweet potatoes will be grown on transatlantic flights to the USA, while Tokyo routes will have the choice of okura (okra) or shiitake mushrooms. Virgin Atlantic even supplied pictures of the "new service", see one above.
On Wednesday night Skytrax announced this years World Airport Awards. The most prestigious price, Airport of the Year, went to Hong Kong International (IATA: HKG), we wrote about it.
Outside of that it wasn't all cheery when Miami's airport (IATA: MIA) kept cancelling flights after the previous week's fuel fire that destroyed their hydrant fuel pump system. The airport currently still has a flight delay caution note on their website.
And finally something from the "odd news" section: A man who was found smoking in Indianapolis International Airport (IATA: IND) was arrested after he ignored a request to put out a cigarette and walked into an unauthorized area, wrote the Indy Channel. It goes to show that smoking isn't just bad for your health, it can also get you arrested;-)
Have a great week everyone!