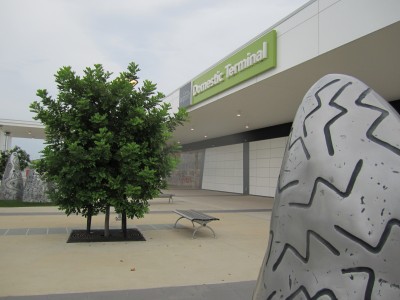 I've been in two minds over reviewing this airport. On one hand, Cairns is only the 7th busiest airport in Australia and can I highly doubt anyone outside of Australia can actually name 7 cities on this continent, or am I wrong? But then for comparison, the George Bush Intercontinental Airport in Dallas Houston [corrected; apologies for the mistake], Texas (IATA: IAH) is the US 7th busiest airport and I'd certainly wouldn't hesitate writing about that one.
Cairns also has recently been in the international news with the incredibly scary category 5 cyclone Yasi hitting the area on the 3rd February. The airport subsequently shut for more than a day but luckily didn't suffer any major damage.
On the other hand, and on a more personal note, Cairns is special to me as it has been my first port of call when I came to Australia for the very first time years ago. I subsequently went back there a number of times as it's a really nice little city in Far North Queensland. Cairns is also one of the main gateways to the magnificent Great Barrier Reef and with that an important airport for thousands of tourists.
The airport (IATA: CNS) operates an International and a Domestic terminal which are about 200m apart from each other. My review focuses on the Domestic terminal which has just been completed after a AU$200 Million redevelopment.
My very first impression of the terminal wasn't very good but this had not much to do with the actual terminal, it was because the rental car return signs were inconsistent and partially missing altogether making your way to the drop zone ridiculously very confusing. The actual terminal is pleasant, even though it slightly resembles an over-sized tin shed. Outside, there are a few excellent sculptures (see photo) and inside, the terminal building is light and airy. Furthermore, it even features an air-side outdoor area which means you can continue to enjoy the warm, tropical climate, if that's your thing, even after you've  passed through security. This is also a welcome change for smokers who can find a separate smoking corner in that area too.
Inside there are a few shops and cafes and all look still very new. The one thing I couldn't quite understand is why the shops closed before all flights left. Could this have to do with the very relaxed attitude of the people who live that far north? Anyway, overall I enjoyed the experience and will certainly come back. Maybe more because of the reef than the airport though. But that's an unfair comparison. Really.
Finally, here are my favourite things to do:
Go to the Coffee Club and try a piece of date & honey loaf. How good is it?!!
Play with the latest toy for little and not so little boys: buy a "Hexbug" at the Newslink store while… (continue reading the next bullet point…)
Girls, enjoy browsing through the latest Ugg boot styles at the "Purely Merino" store
Shop for your last souvenirs at the "Discover Australia Store". My favourites are the fridge magnets; they stockthe classic super tacky style we all know and love plus a great range of uber modern ones.
And finally, have a look at the wonderful Australian photographs exhibited in the Ric J. Steininger Photography Gallery

| | |
| --- | --- |
| Airport Name | Cairns Domestic Terminal |
| Website | http://www.cairnsairport.com.au |
| IATA Code | CNS |
| Design | |
| Shopping | |
| Toilets | |
| Overall | |
| | |
| | no duty-free available in the domestic terminal |
| | no duty-free available in the domestic terminal |
[Picture from LateDeparture – all rights reserved]